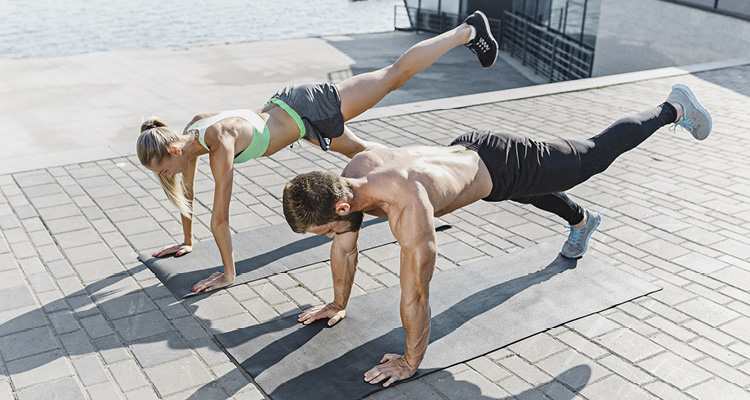 Outdoor workouts were here long before government restrictions in the UK were implemented to right the spread of Covid-19. However, due to the nature of the changes to our lives, outdoor PT sessions have grown increasingly popular.
What is group exercise?
Group exercise is where a fitness class or session is led by a trained instructor for more than 1 person and can involve a variety of exercises such as yoga, zumba, circuit training and more.
Do's
Be organised – Whether your outdoor PT session is a 1-1 or group workout, organisation is key. Preparation and organisation will allow for a much more effective session.
Adhere to good time management – For the sake of both you and your clients, ensuring sessions start and finish on time is vital for success. This is because it ensures you come across as professional alongside clients being able to trust your session times.
Provide variety – During sessions, offering a range of different exercises will ensure your clients get the most out of their time with you, but also it will keep them engaged in the sessions as they're less likely to get bored.
Nurture your clients confidence – When working with your clients, it's always good to praise them where warranted, as you will grow their confidence which in turn will only strengthen your outdoor workouts.
Prepare to adapt – As everyone has different ways of learning, along with varying abilities, personal trainers must be prepared to adjust their workout regimes or exercises for their clients, and outdoor workout sessions are no exception to this.
Don'ts
Let clients take advantage of you – When conducting outdoor PT sessions, ensure your clients are not taking advantage of you by asking for more of your time than they are entitled to or asking for special treatment compared with your other clients. This is particularly important during outdoor group workouts.
Host outdoor sessions in adverse weather conditions – Outdoor workouts can be a lot of fun, especially during the warmer months. However, in the winter months when it's more likely to rain or snow, you must take great care to ensure that you and your clients are safe.
Use unsafe equipment – The equipment you use during outdoor PT sessions must be up to a high standard and safe to use in the environment you're holding the workout in.
How do you structure a group fitness class?
As there are more people to keep engaged in the session with group fitness classes, creating and maintaining a solid structure is critical to ensure your workout runs smoothly and clients can make the most of it.
Step 1
Prepare your space for the group workout, this could include setting up any equipment that will be used during this time.
Step 2
Whether you're hosting a group session or 1-1, it's important to begin any exercise with warm -up exercises.
Step 3
Once you've got your class to warm up, you can commence your main exercises according to what areas of the body you're hoping to work on during the session.
Step 4
Following the focus exercise, before the workout comes to an end, ensure your clients cool down.
Become a personal trainer with Entire Training
With Entire Training, you can qualify on a personal trainer course, making your fitness career dreams become a reality. We have expert tutors who will ensure you're supported during your training and once you have graduated from Entire Training.
For further information you can contact us online or call a member of our team on 01772 910950 (North) 0203 9418880 (South).
We Are Proud to work With The Following Partners and Accreditation